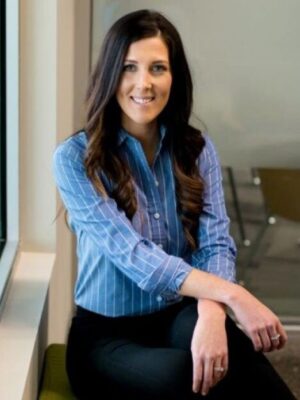 Megan Weller-Versau, P.C.Q.I.
Position:
Chief Operating Officer
Megan joined the Nobis Agri Science team in November 2014 as the head of the Marketing and Human Resources Department and is also taking the lead on all regulatory compliance. She is also trained and certified to be our facility's Preventative Controls Qualified Individual (PCQI) to oversee our Food Safety Plan and implement preventive controls, if needed.
Megan grew up on a large dairy farm in the small town of Middleton, Michigan and attended college at Western Michigan University where she received a Bachelors in Business Administration.  After graduation, Megan went to work for a non-profit organization where she became Director of Membership Services and Business Development.  She also worked for VanDam & Krusinga as a Marketing Coordinator and Executive Assistant before coming to work for Nobis Agri Science.  What she likes most about working for Nobis Agri Science is the family atmosphere and the great group of people that she gets to work with every day.  Outside of work, Megan is an active runner and cyclist, enjoys all types of food and is a wine enthusiast.  She also enjoys spending time with family and friends.
Experience in the Industry: 7 years